Supported
Armbian Stretch
mainline kernel 4.14.y
Armbian Bionic
desktop mainline kernel 4.14.y
it's highly recommended to power via header with quality and powerful (3A) PSU – if you want stable operations and overclocking? In another word – don't even try to power via stock micro USB power connector since your board will suffer from regular crashing and might not even boot up.
booting from eMMC is currently broken. In case of troubles use this tool to restore stock bootloader.
known issues: MALI and video acceleration libraries are not installed yet
overclocking to 2.2Ghz is possible with (patched) mainline kernel. Enable with:

echo 1 > /sys/devices/system/cpu/cpufreq/boost      # enable turbo
nano /etc/default/cpufrequtils                      # adjust new limit
/etc/init.d/cpufrequtils restart                    # restart cpufrequtils

If you can't restore your bootloader with pressing and holding the button while powering, you need to shorten this resistor with some tweezers and power the board. Then proceed with flashing stock u-boot.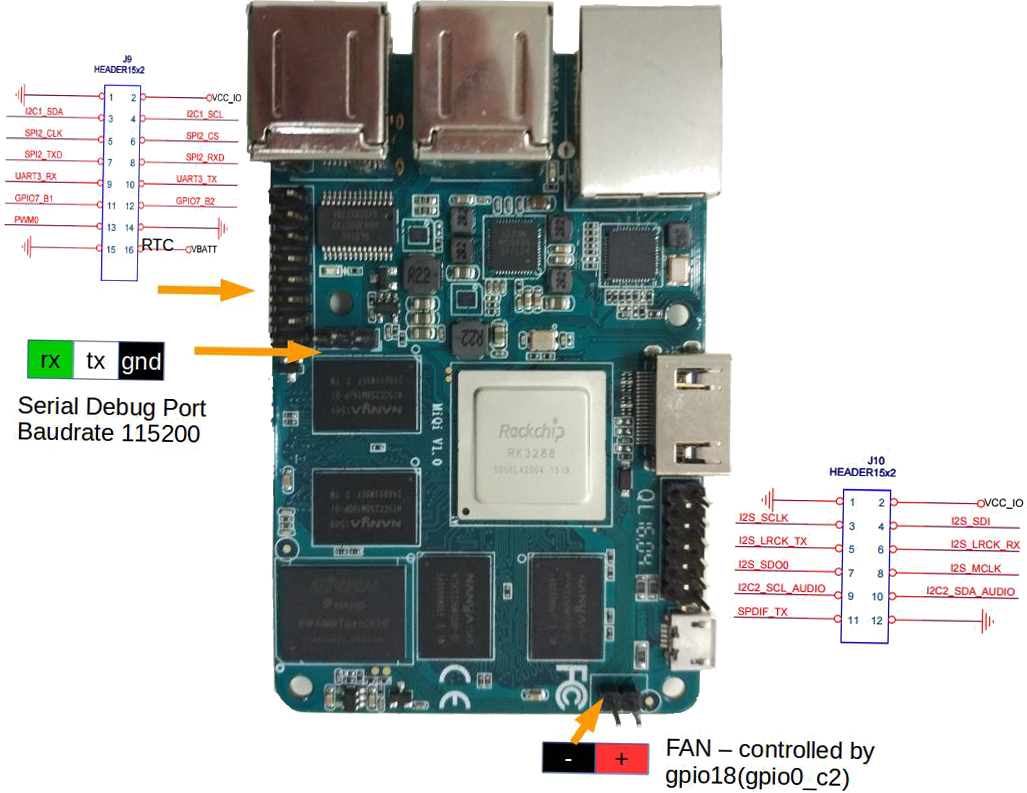 FAQs
We provide CLI (command line interface) images first. If the software is stable enough we add the option to upgrade to XFCE desktop. The Build-System relies on  Debian and Ubuntu. The availability of different images may vary, most of the time because of driver restriction. Sometimes we provide only testing images.
All images can be built from sources at any time and in rare cases, where you can't find an image which you need, you can build one.
Preparation
Make sure you have a good & reliable SD card and a proper power supply. Archives can be uncompressed with 7-Zip on Windows, Keka on OS X and 7z on Linux (apt-get install p7zip-full). RAW images can be written with Etcher (all OS).
Boot
Insert the SD card into the slot, connect a cable to your network if possible or a display and power your board. (First) boot (with DHCP) takes up to 35 seconds with a class 10 SD Card.
Login
Log in as: root  Password: 1234. Then you are prompted to change this password (US-Keyboard setting). When done, you are asked to create a normal user-account for your everyday tasks.
SUPPORTED devices are tested and they work apart from known issues and missing features. Support is provided as far as possible (in general there is no support for 3rd party hardware like DVB tuners and software like Kodi). Please check the documentation and existing forum posts before posting a question.
SUITABLE FOR TESTING (WIP) are devices which we're currently working on but they are not ready! These images are suitable for developers and experienced users. They are not very well tested but they might work without any problems. Your help to improve this situation is greatly appreciated.
SUPPORT ENDED (EOS) status are devices which used to be supported in the past. Reasons for moving to this section:
no active software development (mainline u-boot and kernel)
no support from the vendor (hardware samples, documentation, software packages)
never was sold, only samples in small quantities were available
hardware design flaws don't allow using these devices without stability issues
Support status:
images are stable but we don't test updating,
images are provided with no support,
most images have frozen kernel and u-boot packages to prevent their upgrades.
NO OFFICIAL SUPPORT (CSC) are devices which are supported by the 3rd party. We usually don't have hardware samples nor conduct any tests but they might work. There is no support whatsoever.
Other download options
Armbian Stretch
legacy kernel 4.4.y
Armbian Bionic
desktop legacy kernel 4.4.y