Supported
Armbian 22.02 Bullseye
Kernel 5.10.y, Size: 397Mb, Updated: Feb 27, 2022
SHA hash | PGP signature
Armbian 22.02 Focal XFCE
Kernel 5.10.y, Size: 1109Mb, Updated: Feb 28, 2022
SHA hash | PGP signature
To be able to boot Armbian SD card image and install Armbian to eMMC, use one of the methods to boot into upgrade mode. If you have most recent board revision (1.4 ->) then you only need to quickly press the function key (middle) 3 times in 2 seconds. Release and boot will proceed from SD card. Then use nand-sata-install utility to flash to eMMC.
Serial console: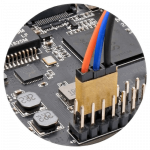 Blue color line: Tool Pin TXD, orange color: Tool Pin RXD, black: Tool Pin GND
Other download variants
Variant
EU
USA
Asia
Torrent
User space
Kernel
Integrity
Size
Last modified
Focal
stable
5.10.y
SHA
ASC
318M
Feb 27, 2022
Jammy XFCE
rolling
5.15.y
SHA
ASC
1142M
Feb 27, 2022
* Do you need a different variant of image? Use build framework and make one!